Reading Time:
2
minutes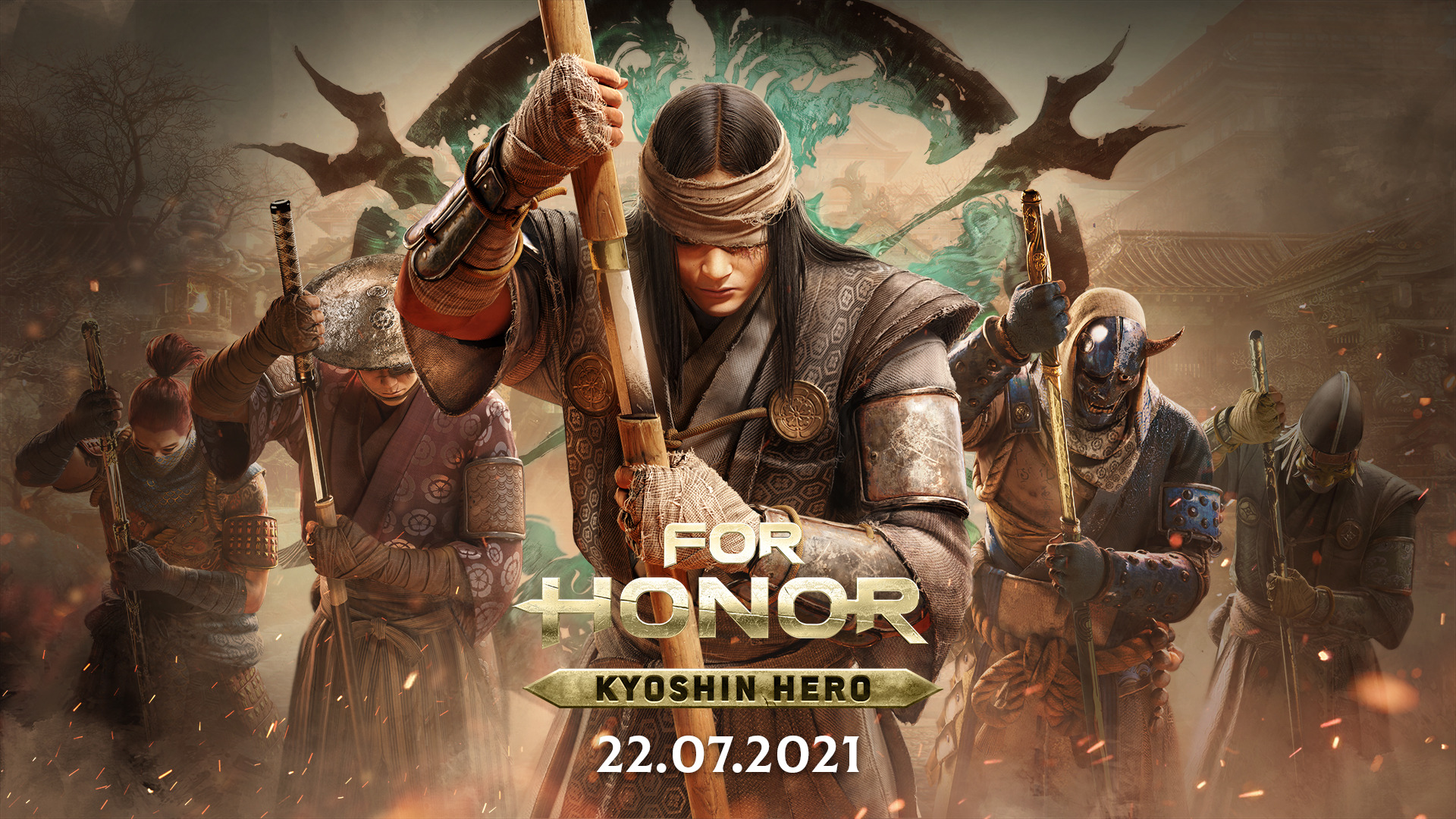 Düsseldorf, 16. Juli 2021 – Ubisoft verkündete das Title-Update 2.0 für For Honor Year 5 Season 2, das am 22. Juli erscheinen wird. Das Update stellt den neuen spielbaren Helden vor – die Kyoshin. Als mystische Samurai führen die Kyoshin eine versteckte Klinge und erfüllen mit ihrer Eleganz und Kühnheit die Gegner auf dem Schlachtfeld mit Ehrfurcht. For Honor ist für PlayStation®4, die Xbox One-Gerätefamilie, Windows PC sowie auf Ubisoft+, dem Abonnement-Service von Ubisoft*, erhältlich. For Honor ist ebenfalls auf PlayStation®5 und Xbox Series X|S mithilfe Abwärtskompatibilität spielbar.
Der Trailer kann unter folgendem Link gefunden werden:
Alternativ liegt das Video hier als Direktdownload bereit.
Die Kyoshin sind legendäre Krieger:innen, die tief mit der spirituellen Welt verbunden sind. Durch ihre spezielle Ausbildung beherrschen sie die Kampfkunst der Shikomizue, einer versteckten Einhandklinge und einer Klingenscheide. Während sie wie Schatten durch die Schlachten ziehen, setzen sie ihre übermenschlichen Kräfte gegen ihre Feinde ein. Dank ihrer speziellen Kaze-Haltung können sie gezielte Angriffe abblocken und schnell kontern. Ab dem 22. Juli kann die Erweiterung in offiziellen Stores erworben werden. Das Paket enthält die Kyoshin, ein exklusives Ornament, eine Elite-Montur, Champion-Status für sieben Tage und drei Restesammler-Truhen. Ab dem 5. August können die Kyoshin für 15.000 Stahl im Spiel erworben werden.
Bis zum 18. Juli kann For Honor zudem kostenlos auf PlayStation®4, PlayStation®5, Xbox One, Xbox Series X|S gespielt werden. Während des Free Weekend erhalten alle Zugang zu der Standard Edition von For Honor. Diese beinhaltet den Story-Modus, alle Multiplayer-Modi, 12 spielbare Charaktere und 30 Karten. Nach dem Free Weekend können der Fortschritt und die Helden auf die Vollversion von For Honor übertragen werden, die für Windows PC um ganze 85% rabattiert ist. Weitere Informationen dazu gibt es auf der offiziellen For Honor-Seite.
Alle Angebote zu Ubisoft Spielen gibt es im offiziellen Ubisoft Store unter: store.ubi.com/de/for honor

Weitere Informationen zu For Honor gibt es unter forhonorgame.com, auf Facebook, oder auf Twitter.
Die neuesten Informationen zu For Honor und anderen Ubisoft Spielen gibt es unter: news.ubisoft.com
*14,99€ pro Monat. Kann jederzeit gekündigt werden. Weitere Informationen unter ubisoft-plus.com.

---
---
Pressemitteilung PDF 210715_FH_Kyoshin_PM.pdf – 79 KB
About For Honor
Developed by Ubisoft Montreal in collaboration with other Ubisoft studios,** For Honor offers an engaging campaign and thrilling multiplayer modes. Players embody warriors of the four great factions – the bold Knights, the brutal Vikings, the deadly Samurai and the fearsome Wu Lin – fighting to the death on intense and believable melee battlefields. The Art of Battle, the game's innovative combat system that puts players in total control of their warriors, allows them to utilize the unique skills and combat style of each hero to vanquish all enemies who stand in their way.
**Associate Ubisoft studios include Quebec, Toronto and Blue Byte. Additional development from Studio Gobo.
© 2021 Ubisoft Entertainment. All Rights Reserved. For Honor, Ubisoft, and the Ubisoft logo are registered or unregistered trademarks of Ubisoft Entertainment in the US and/or other countries.
Website: LINK