2

min read
Reading Time:
2
minutes
Düsseldorf, 10. September 2022 – Ubisoft® zeigte heute während der Ubisoft Forward ein Gameplay-Video mit Spielszenen von Mario + Rabbids® Sparks of Hope, welches am 20. Oktober für Nintendo SwitchTM erscheint. Dies bietet eine gute Gelegenheit, um zu verkünden, dass Rayman in der dritten Erweiterung des Spiels die Hauptrolle spielen wird.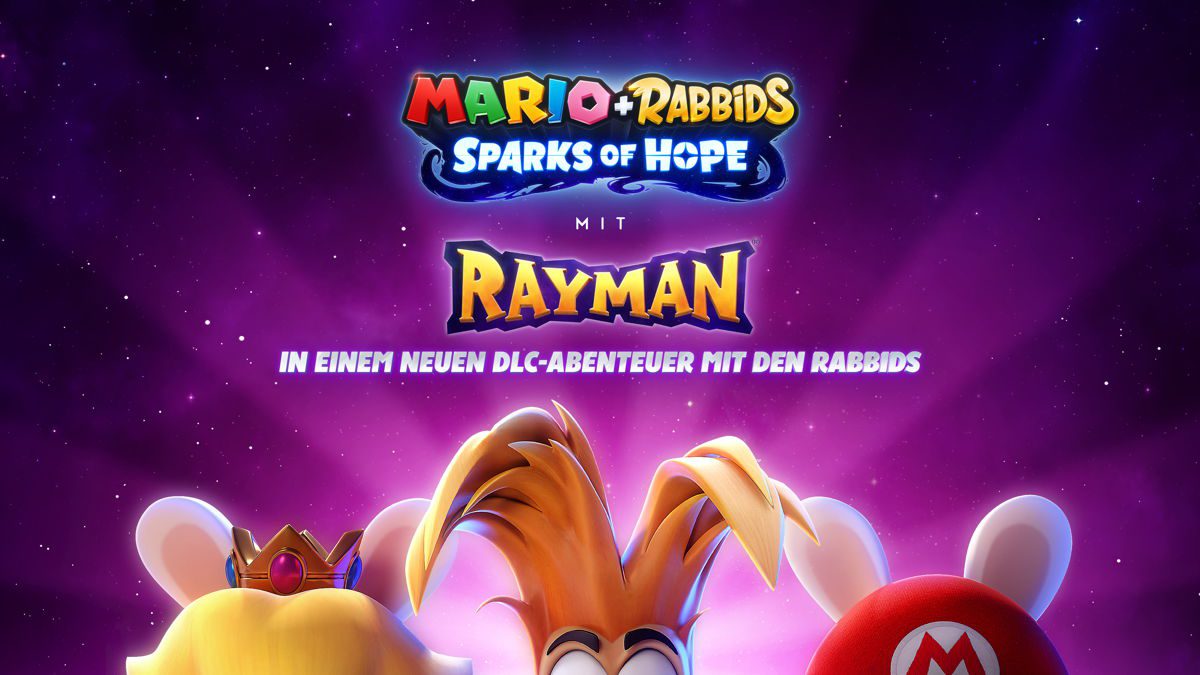 Im neuen Gameplay-Video müssen Mario und seine Freund:innen den Planeten Terra Flora vor der ebenso bösen wie geheimnisvollen Misera retten. Dafür werden sie gegen Feinde kämpfen und sich dem Wiggler stellen, der unter Miseras bösem Einfluss steht. Der Ausschnitt zeigt eine neue, lebendige Welt sowie all die verschiedenen Moves, Kombos und Aktionen, die den Spieler:innen zur Verfügung stehen. Es werden auch alle besonderen Fähigkeiten gezeigt, die die Sparks im Kampf bieten, denn dieser Bosskampf verspricht ein weiterer unvergesslicher Moment in Mario + Rabbids Sparks of Hope zu werden. Das vollständige Gameplay-Video ist hier verfügbar:
Ubisoft kündigte darüber hinaus an, dass der legendäre Rayman wieder mit den Rabbids vereint wird. Er ist als neuer spielbarer Charakter in einer kommenden Erweiterung für das Spiel verfügbar und wird sich mit Rabbid-Peach und Rabbid-Mario zusammentun. Dieser zusätzliche Inhalt wird separat oder als Teil des Season Pass erhältlich sein, der auch in der Mario + Rabbids Sparks of Hope Gold Edition enthalten ist.
Ein erster Teaser zu Raymans Premiere in der Welt von Mario + Rabbids Sparks of Hope ist hier zu finden:
Mehr Informationen zu Mario + Rabbids Sparks of Hope gibt es unter: mario-rabbids.com.
Angebote zu Ubisoft Spielen gibt es im offiziellen Ubisoft Store unter: https://store.ubi.com/de/home
About Mario + Rabbids® Sparks of Hope
Only the most extravagant team of Heroes can rekindle the sparks of hope across the galaxy! Team up with Mario, Rabbid Peach and their friends on a cosmic journey to defeat Cursa and save the galaxy! Explore planets throughout the universe that are filled with strange inhabitants, memorable quests and hilarious secrets! Outwit enemies in an innovative combat system mixing turn-based tactics and real time action. Combine forces with the Spark's immense energy and anything becomes possible…for better OR worse!
MARIO + RABBIDS SPARKS OF HOPE © 2022 Ubisoft Entertainment. All Rights Reserved. Rabbids, Sparks of Hope, Ubisoft and the Ubisoft logo are registered or unregistered trademarks of Ubisoft Entertainment in the U.S. and/or other countries. Nintendo properties are licensed to Ubisoft Entertainment by Nintendo. SUPER MARIO characters © Nintendo. Trademarks are property of their respective owners. Nintendo Switch is a trademark of Nintendo.
20220910_MRSH_MA_UbiFWD.pdf 73 KB Website: LINK